What is Fedora?
Fedora is an open source operating system software, a Linux distribution.
The project started as a successor to Red Hat Linux, whose development was terminated at the end of 2003.
It is unique in that it is community-driven, proactively incorporates feedback from the field, and introduces advanced, flexible, and advanced features.
The most obvious difference when compared to popular Linux distributions such as "Ubuntu" is the balance between "advanced" and "stable".
However, its stability has now been greatly improved, and it is gaining a reputation as an OS that can be used regularly, not just for functional testing purposes.
For those who want to incorporate new and useful features as soon as possible, Fedora will be the best choice.
However, it should not be used as a production environment or corporate need.
In this case, we will use the latest Fedora 35 Server, released November 02, 2021.
Fedora ; Download
Due to the release of Fedora 36, Fedora 35 is currently not available for download from the official site, so please download from the following mirror sites.
https://archives.fedoraproject.org/pub/archive/fedora/linux/releases/35/Server/x86_64/iso/Fedora-Server-dvd-x86_64-35-1.2.iso
Create an installation disk on a USB disk, and install it on the actual device.
Fedora ; Install
①Change to boot from USB disk in the BIOS change screen of the PC.
②Insert the USB disk and start the PC
③Press the "tab" key to change the screen resolution, etc.  ↓
Add "inst.resolution=1280x800" and press Enter to use the uninterrupted right edge of the installation screen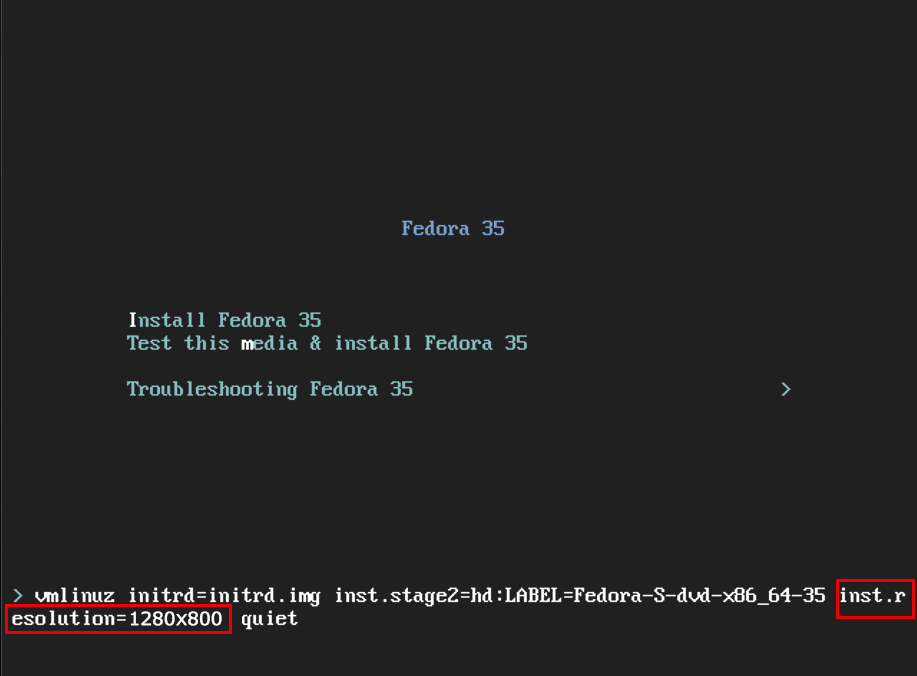 ④On the language selection screen, select "English"   ↓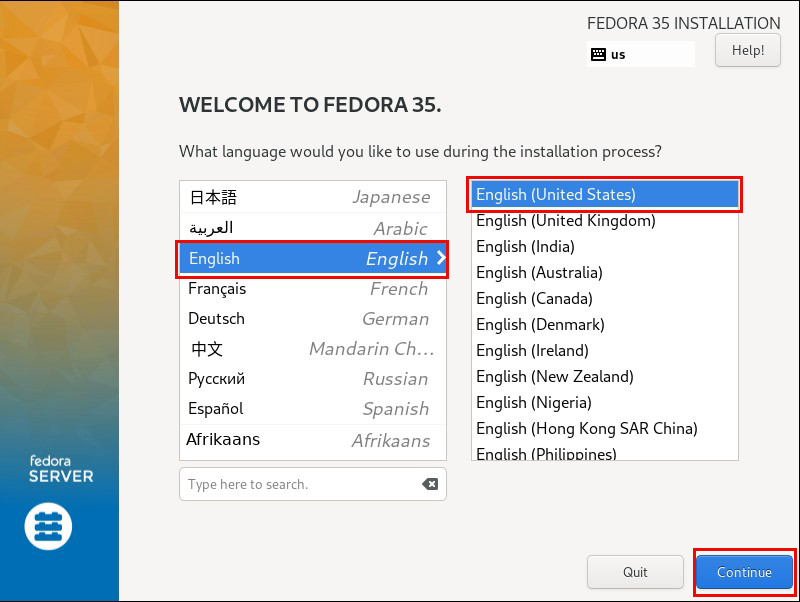 ⑤In the "INSTRATION SUMMARY", "Keyboard", "Language Support" and "Time & Date " under "Regional Settings" and "Installation Source" and "Software Selection" under "SOFTWARE" are used by default, so there is no need to do anything.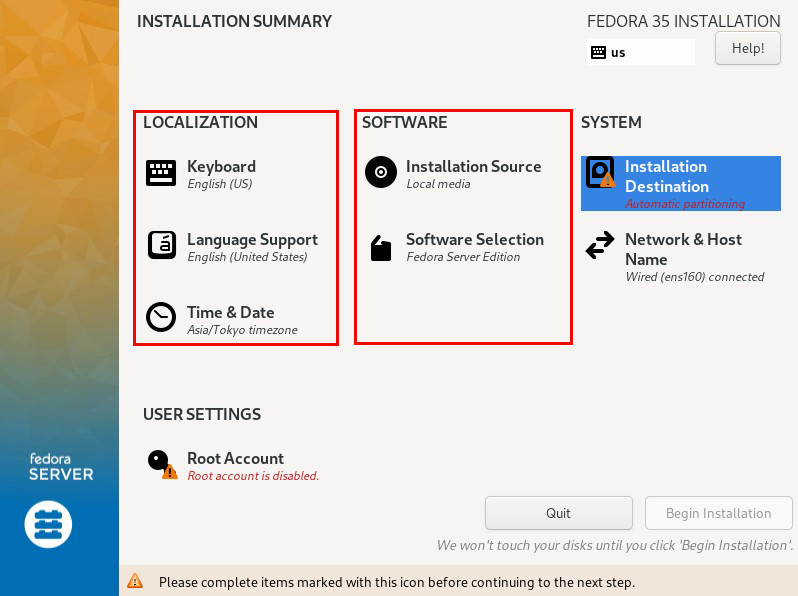 ⑥"SYSTEM" "Instaration Destination" setting

Select the disk you want to install.
"Storage Configuration" should be Automatic" is fine.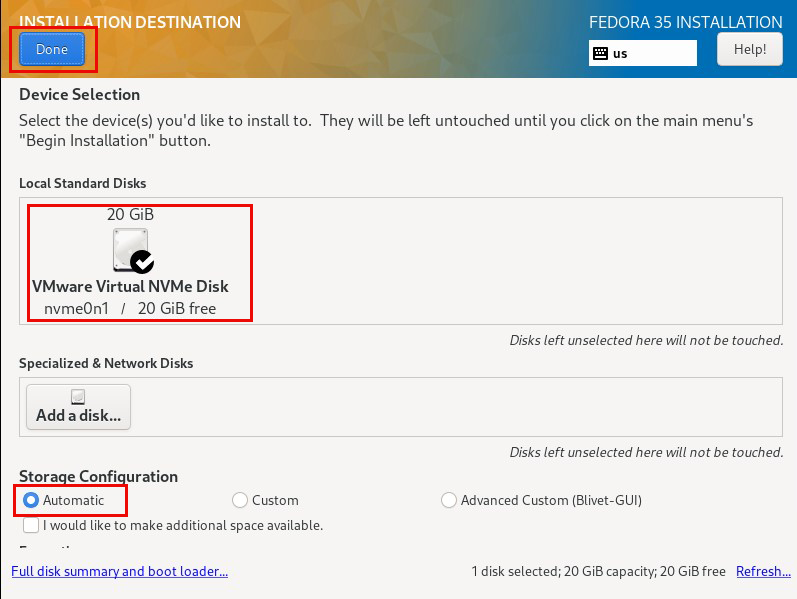 ⑦Network & Host Name" settings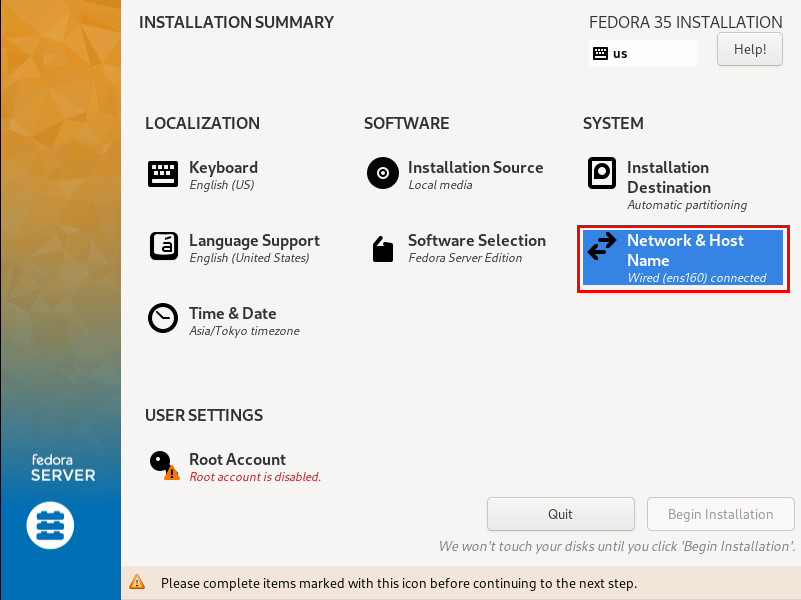 Give any name to "Host Name" and click "Apply"    I'm going with "fedora" this time.
Turn "ON" the network interface in the upper right corner and click "Configure"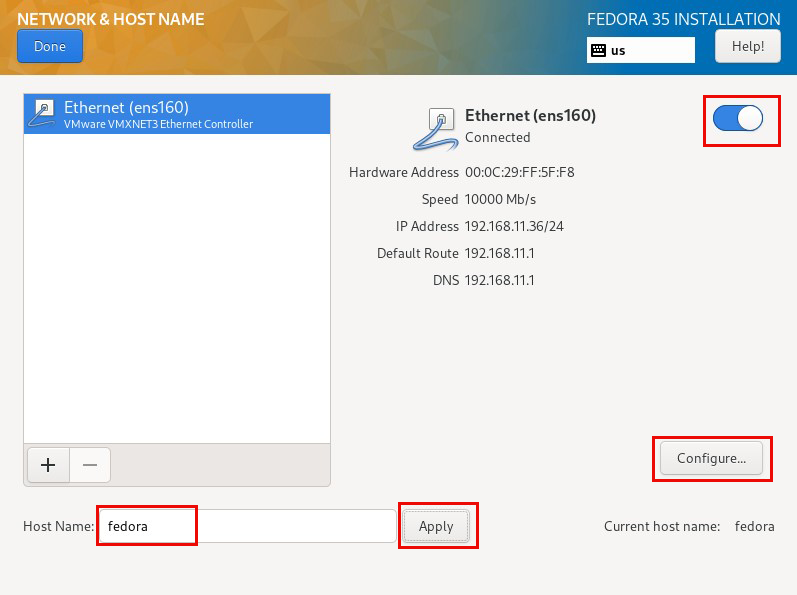 ⑧The network interface configuration screen will be displayed, first, in the "General" tab, check the "Connect automatically with priority" checkbox.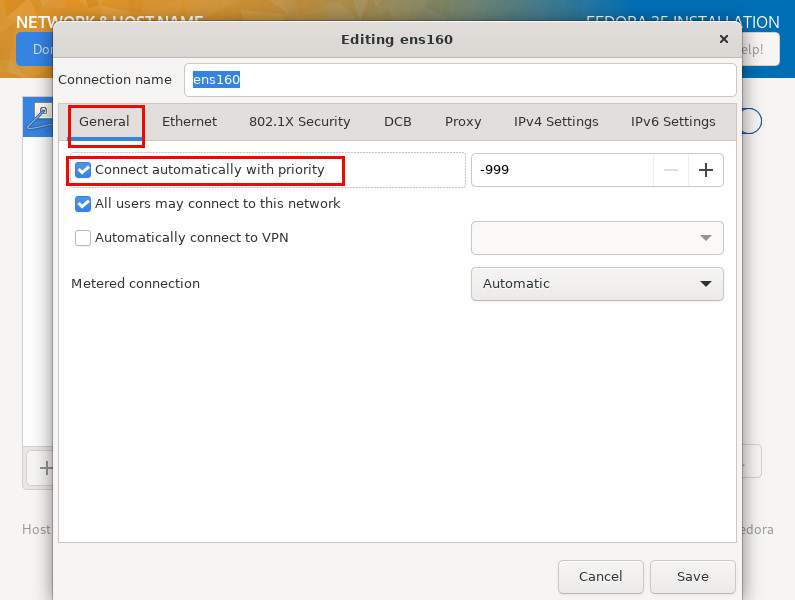 ⑨In the "IPv4 Settings" tab, select "Manual" for "Method", click "Add" and enter the following information  ↓
Addresses   Local IP address of this server
Netmask       255.255.255.0
Gateway         Router's IP address (in this case "192.168.11.1")
DNS servers  Router's IP address (in this case "192.168.11.1")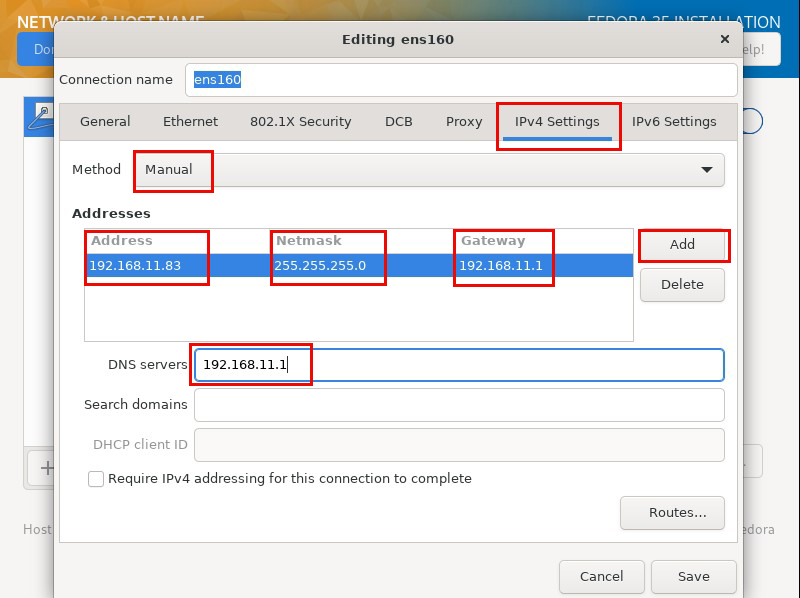 ⑩In the "IPv6 Settings" tab, set "Method" to "Disabled" and click "Save    ↓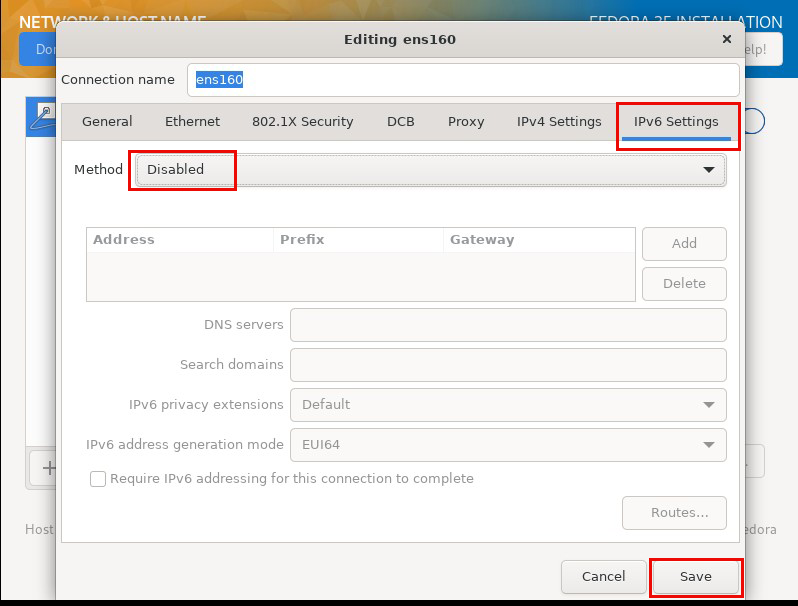 ⑪Click "Done" to return to the original screen.    ↓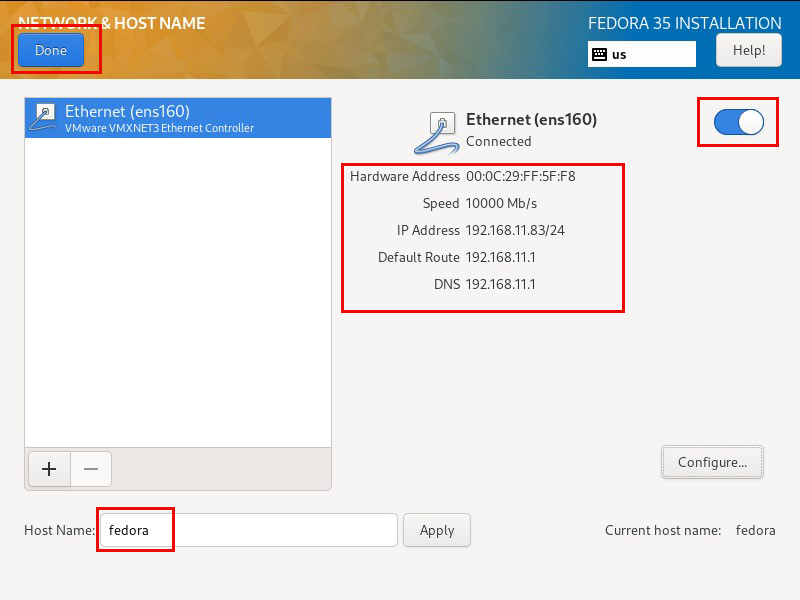 ⑫Return to the "Installation Summary" screen and configure the "Root Account" settings in the "User Settings" section.   ↓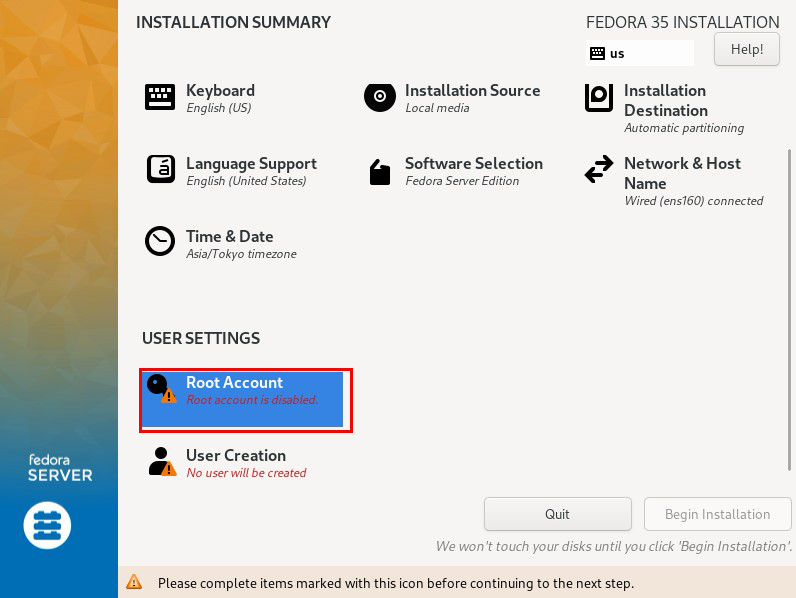 ⑬Set "root user password" and click "Done"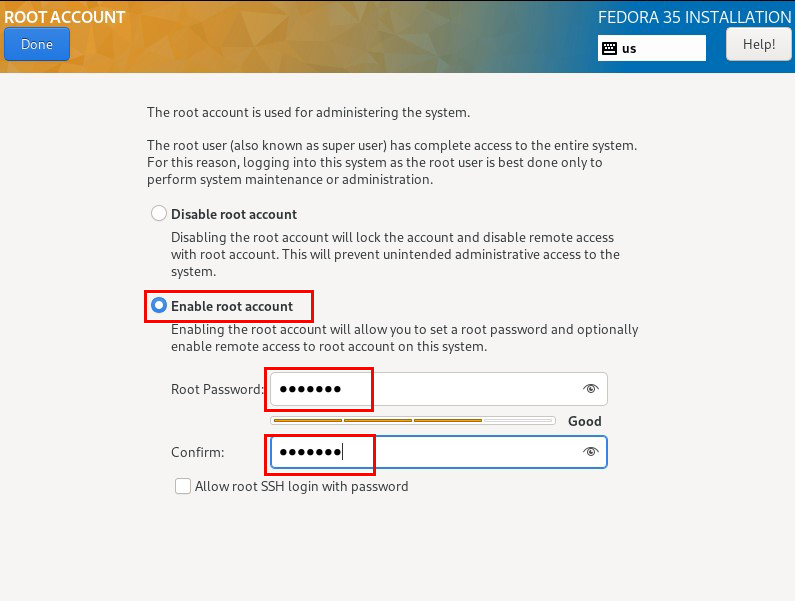 ⑭Return to the "Installation Summary" screen and set "Create User" in the "User Creation" section.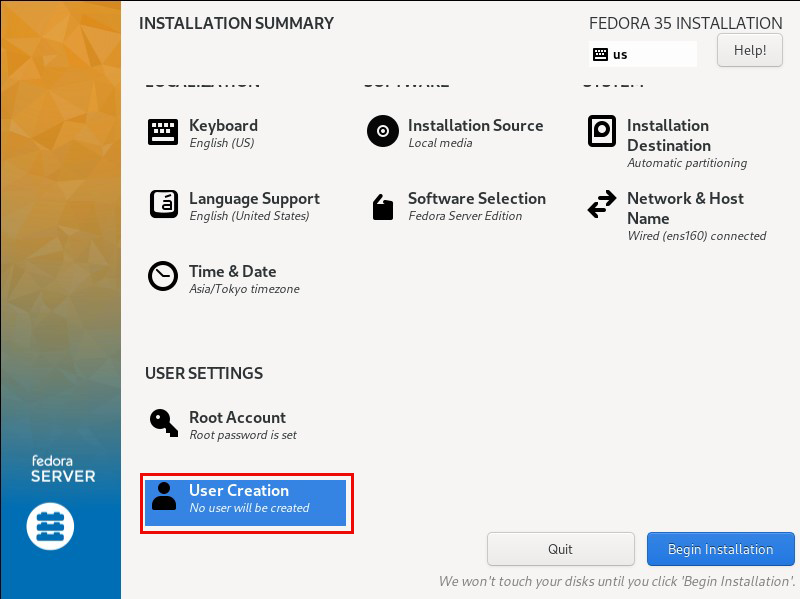 ⑮The "Full name" is optional, as are the "User name" and "Password", but they are required to log in to the server, so be sure not to forget them. Check "Make this user administrator"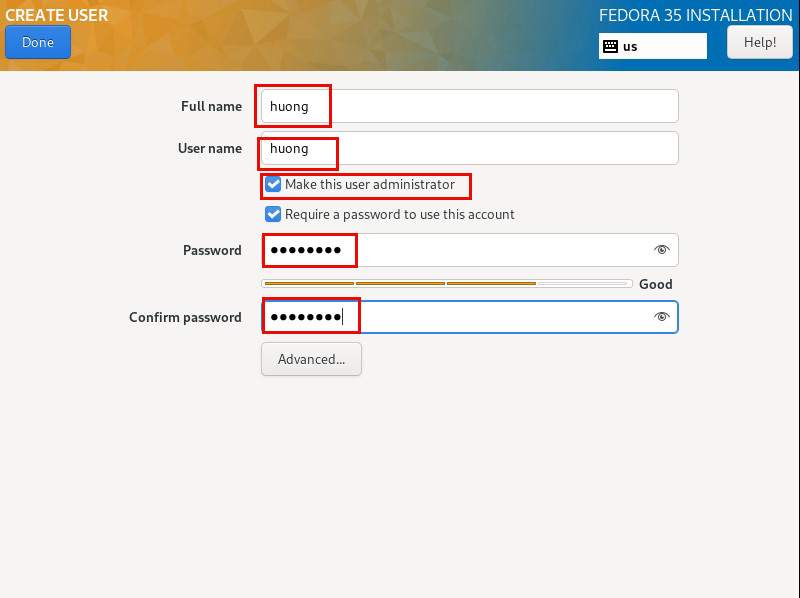 ⑯Click "Bigin Installation" to start installation.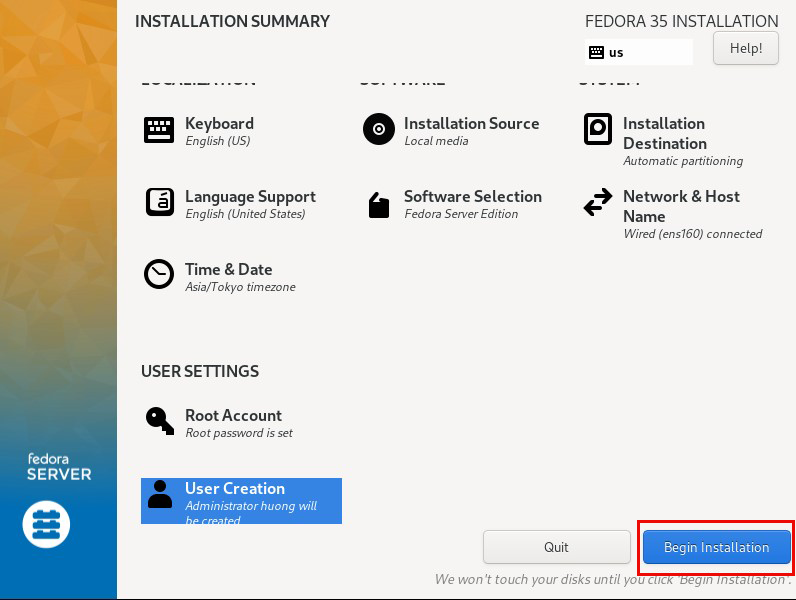 ⑰Press "Reboot System" when "Installation Progress" and installation is complete.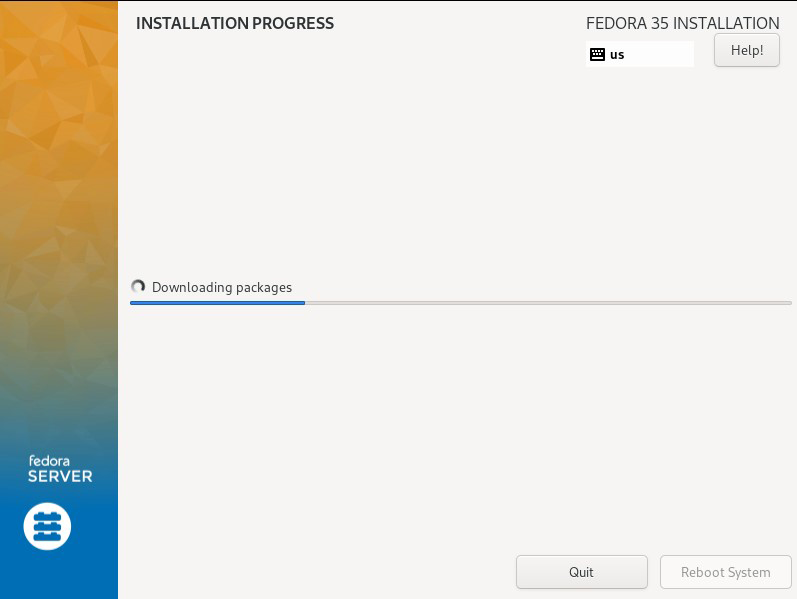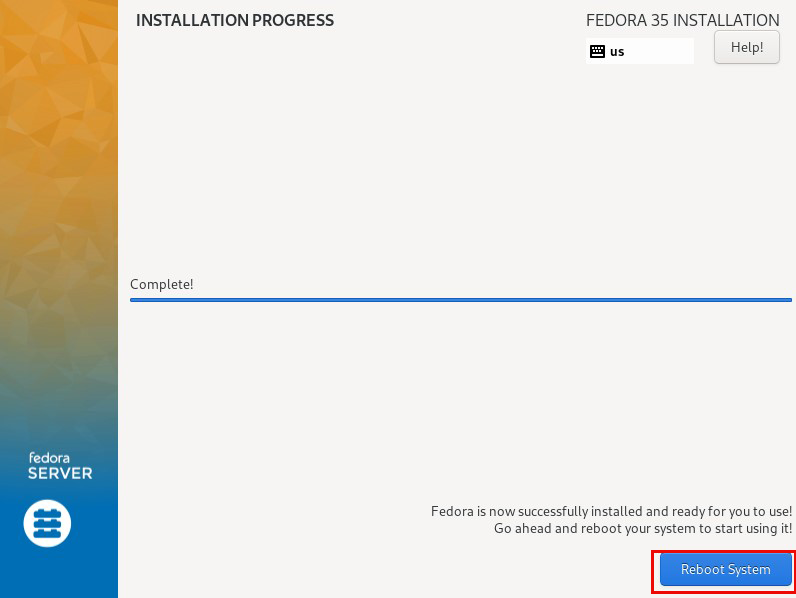 ⑱After rebooting, you will be at the Fedora startup screen and then at the console screen.